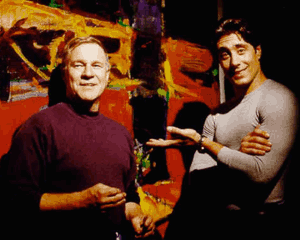 David Quane (Steve) presents Robert Burridge,
the artist who created Steve's paintings for the film.
ROBERT BURRIDGE
- Abstract Artist -
Leading an exciting and interesting career is something to which Robert Burridge has become accustomed and he has an impressive resume of credits to his name. Robert was the first artist featured on Starbuck's Commuter Mugs, selected as the official artist for the 2001 Sausalito Art Festival, named by the LA Times one of California's top ten artists, and winner of the prestigious Philadelphia Water Color Society Gold Medal, previously won by Georgia O'Keefe and Andrew Wyeth. As the official Pearl Vodka artist this year, his "String of Pearls" artwork is featured on the hang tags of every bottle. Hollywood has become another avenue for Bob; he has created 12 huge abstract paintings for a "Dean Quixote," produced by Victor Simpkins, and he is working on illustrating a book written by one of the directors of "Just Shoot Me."
About his style of painting, Bob says "Art should be an uplifting experience and celebration of all that's wonderful about life and its quirkiness!"
Burridge is represented by Powell Street Gallery in San Francisco and exhibits his work in Manhattan Beach, Sonoma, Tampa-Florida, Australia and Maui.
See more about Robert at his website: www.RobertBurridge.com