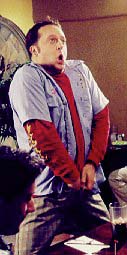 Dave sure did act a whole bunch in his day. Born and raised in the wild and dirty valley of San Fernando, Dave was surrounded by the juggernaut that is "the industry." It was an obvious progression for him to fall into acting, mostly because there wasn't much else he could do (he's bad at adding and can't run too fast either. Also, he's allergic to some forms of wool, in case you're interested). Also, he was amazingly obnoxious. So act he did.
Dave went to high school. It was good. After that he applied and was accepted to New York University's Tisch School of the Arts Experimental Theater Wing, a tiny enclave within the school dedicated to broadening theatre beyond its confines through movement and sound. This was to prove pivotal in the life of the young idiot Finkel. From here on out, Finkel was able to look at things through a more camera obscura. While in New York, Finkel appeared in many stage productions, including "Waiting for Godot," " What Where," "Endgame," "Derek," "Beirut" and "Zoo Story."
Following his New York years, Dave returned to his native Los Angeles. Upon many auditions for Tide and Mr. Clean, he realized that casting directors generally didn't care about Finkel, so he poured his energy into a fledgling sketch comedy group called The Acme Comedy Theater. On stage, during the course of four years, he earned much acclaim for his energized performances and absurdist leanings. Here, he also met his future writing partner Brett Baer.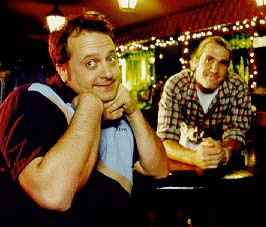 Dave gave up acting and embraced the world of the writer, quickly landing jobs as a scribe on such shows as "Animaniacs," "Duckman" and "Pinky and the Brain" for which he was nominated for an Emmy (which he lost. Leave him alone). He used his knowledge of physical comedy in "The Monkey Boys," a series of silent comedy shorts that he wrote, produced and starred in with his partner Brett Baer for ABC's "One Saturday Morning."
Following the demise of that show, Dave and Brett kicked around for awhile before finally ending up as story editors on the ABC Television series "Norm," starring Norm Macdonald.
Dave makes his feature film debut in "Dean Quixote" in the aptly named role of Finkel. recently, he also completed a film entitled "The Dancing Cow." Dave is also a founding member of Sgt. Pickery's Mechanica Wonderfra, an acclaimed yet almost unknown experimental comedy group that has toured a bit here and there with its most recent production, entitled simply "Ass."
He also likes eggs.