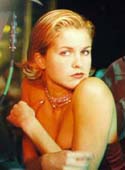 California native Laurie Fortier was born and raised in Pasadena and actually served as a Rose Princess in the Pasadena Rose Bowl Parade on New Year's Day 1992. After attending St. Mary's College in Northern California briefly, Laurie returned to Hollywood to pursue her acting career.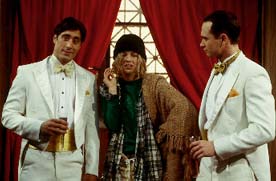 In addition to her role as the mysterious Annie in "Dean Quixote," Laurie starred in "To Gillian on Her 37th Birthday" along with Michelle Pfeiffer, Peter Gallagher and Clare Danes. Her extensive television credits include series regular roles on "Push" and "Running the Halls" and a starring role in the telefeature "Her Costly Affair" with Bonnie Bedelia. Laurie's featured television appearances include guest starring roles on "Chicago Hope," "Cupid," "The Big Easy," "Step by Step" and "Sliders" and a recurring role on "Boy Meets World."
Laurie was on location in Charleston, SC last September shooting "The In Crowd" directed by Mary Lambert ("Pet Semetary") for Warner Brothers/Morgan Creek Productions. When Hurricane Floyd made landfall, production was temporarily suspended. Everyone got REALLY wet.