ROBERT MEYER BURNETT earned his first screen credit in 1989 as the art department assistant on New Line's "Leatherface: The Texas Chainsaw Massacre III," before moving on to a management trainee position in the Warner Brothers feature production department, observing the production of such notable films as "Nothing But Trouble," "The Rookie," "The Bonfire of the Vanities" and "Free Willy." From there, he moved on to stints as a story analyst for Silver Pictures, CAA, William Morris and The Image Organization before settling on a Creative Executive position with director robin Armstrong's Open Road Productions, where he developed projects for both film and television.

Moving back into production, Burnett worked as an assistant makeup-effects coordinator for Tony Gardner's Alterian Studios on "Cast a Deadly Spell," "Sleepwalkers" "Super Mario Brothers," "Army of Darkness" and the "Swamp Thing" television series, picking up more screen credits along the way. From there, he joined Full Moon Entertainment as a staff editor and segment producer, earning his first feature editorial assignment, the complete recut of Albert Pyun's "Arcade," later nominated for Best Independent Direct to Video release of 1993 by the VSDA.
Moving off on his own, Burnett directed a number of music videos and shorts, including the award-winning "The Sacred Fire" and has had a successful career as a freelance motion picture film editor, including editing director James Boyd's award-winning feature "The New Gods," which played in Cannes as part of Slamdance's "Cannes you dig it?" festival. He also edited segments of the CableACE award-winning "Jody Horowitz Presents" for Showtime.
After working as a freelance Star Trek consultant for Viacom Interactive, Burnett went on to edit the multi-media film displays for Landmark Entertainment and Paramount Parks' $80 million themed attraction, "Star Trek: The Experience," which opened in January of 1998 at the Las Vegas Hilton.
In addition, he was Critic-At-Large for Sci-Fi Universe Magazine, published by Larry Flynt, for four years, as well as a frequent on-air guest commentator on the Sci-Fi Channel series, "SF Vortex," the "Politically Incorrect" for the Sci-Fi world.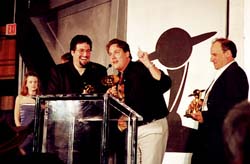 Burnett is the director/writer/editor of the mutiple-award winning feature "Free Enterprise." The feature won "Best Film" and "Best Screenplay" at the 1998 AFI Los Angeles International Film Festival. released by Regent Entertainment (the producers of the Academy Award-winning "Gods and Monsters) in June of 1999 to glowing reviews, "Free Enterprise" makes it's video debut in November, followed by an exclusive run on HBO. Burnett also recently produced Mindfire Entertainment's second feature "The Specials" and just finished editing "Dean Quixote," the new film from "Swingers" producer Victor Simpkins and first time director Orion Walker. Robert Burnett is represented by the William Morris Agency.