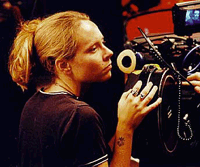 Lisa Wiegand is one of 25 "New Faces of Indie Film" according to her profile in Film Maker magazine (Summer,1998 issue). Last year, Lisa (along with fellow young cinematographer Jonah Torreano) received the first American Society of Cinematographers (ASC)/Karl Struss Heritage Award for outstanding achievement by a film school student or recent graduate in filmmaking. The Heritage Award was inaugurated in 1999 in commemoration of the ASC's 80th anniversary.
Lisa was born and raised in Royal Oak, Michigan. After many years of still photography and printing in her father's darkroom, she became interested in the art of motion pictures. In 1989, Lisa graduated summa cum laude from Wayne State University in Detroit with a degree in film and television.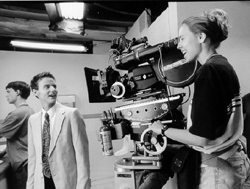 Lisa came to Los Angeles in 1993 to attend UCLA's graduate film program and she continued her education as a Cinematography Fellow at the American Film Institute in 1995. After attending the AFI, Lisa shot her first 35mm feature film, "Shopping for Fangs." Then Ford Motor Company hired Lisa to direct 40 videos show casing new products. Lisa's work on "Shopping for Fangs" was profiled in the March, 1999 issue of American Cinematographer magazine.
In 1997, Lisa was honored to attend the exclusive Szinhaz-es Filmmuveszeti Fioskola in Budapest, Hungary, one of only 16 students from around the world who were invited that year to participate in the annual cinematography master class taught by masters Laszlo Kovacs and Billy Williams.
Lisa graduated from UCLA with a Master of Fine Arts degree in cinematography in 1998. Her studies were partially funded by grants from the Motion Picture Association of America, The Hollywood radio and Television Society, Federico DeLaurentiis and Owen Roizman, A.S.C.
In early fall, 1998, Lisa's former UCLA colleague, director Orion Walker, sought her to shoot his first feature film "Dean Quixote. " Principal photography began in late October and wrapped a month later at the end of November. By March,1999, Lisa had already completed production on her third feature, "Eastside," starring Mario Lopez, produced by Kingsize Entertainment. That same year, the UCLA 1999 festival honored Lisa with its award for best cinematography for one of her thesis films, "Jornada del Muerto."
Professional inquiries may be directed to Lisa's representatives at Smith-Gosnell-Nicholson (310.459.0307) or through the American Society of Cinematographers' website.